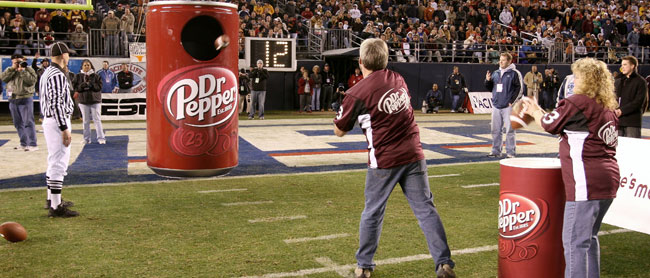 Challenge:
Dr Pepper is one of the larger sponsors of college football and has created several key sponsorships (Big 12, ACC and SEC) to drive activation in key regions of the country. While it has these Midwest, East Coast and Southeastern programs in place, the company was looking for a Western Regional property to leverage and build upon its major equity in college football.
Solution
With its two participating teams being selected from the PAC 10 and Big 12 conferences, the Holiday Bowl draws focus from 22 key Western Regional markets as well as the national football audience. Additionally, this bowl game is played in Southern California, which is the focal point for Dr Pepper's business in the Western Region. Sports Strategies developed an integrated program allowing Dr Pepper to cost effectively leverage an involvement with the Holiday Bowl. Sponsorship assets including category exclusivity, in-game execution of a $1,000,000 football toss in to an 8' Dr Pepper can, 50,000 branded seat bags and prime hospitality served as programming cornerstones. Account-specific consumer promotions and trips to the bowl anchored retailer merchandising programs while product placement at all bowl events kept the Dr Pepper flowing!
Results
Dr Pepper's sponsorship of the Holiday Bowl has become an anchor property in the brand's college football portfolio. A host of significant promotional elements drive the Dr Pepper branding, while successful retail partnerships have been leveraged with key regional and national trade customers across multiple channels.